ASK A PRO
OUTDOOR PURSUITS
READER STORIES
PHOTO GALLERY
TRAIL CAM GALLERY
HUNTERS OF THE YEAR
ANGLERS OF THE YEAR
RECIPE OF THE MONTH

ORDER YOUR
BACK ISSUES TODAY!
ONLY $7.00
(includes shipping)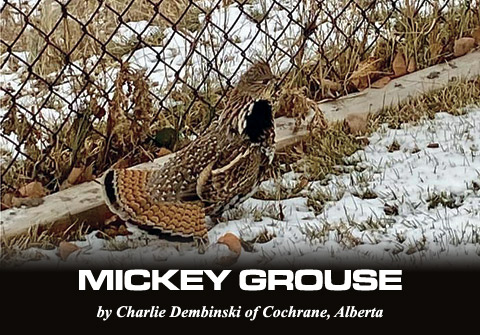 Late November is usually reserved for trying to get a late-season buck, but this story is about a grouse hunting trip and probably one of my most disappointing hunts that still ended with a full belly. I've loved the idea of hunting since I was a toddler. I started tagging along with my dad and grandpa on grouse trips when I was around seven or eight, and I started shooting when I turned ten. In my first year of hunting grouse, I had no luck. But in my second year, I got three ruffies and one spruce. I'm excited to finally get to hunt big game, now that I'm twelve, but for this story, let's go back to last year.   

The first week of September, a friend and I went out to the forest just behind our neighborhood in Cochrane to stalk some deer just for fun. We had just come up on three mule deer when I heard a little raucous right beside me. At first, I thought it was a deer I had missed, but I checked again and didn't see one. I looked down to see three ruffed grouse. This surprised me, even though just the other day I thought I heard a grouse drumming in the same area. My friend and I ditched the deer and chased the grouse. At one point, I came close enough to see its beautiful red tail.

It was late November when we went on our last grouse hunt of the year. We went to an area near Bragg Creek, which is a small town forty-minutes southwest of Calgary. At home, me and Me Ancient (Dad) got all our gear packed up and waited for my grandpa to come over. We ate supper and watched an Oilers game while eagerly waiting for the morning.

In the morning, we woke up at 5:30 am to get an early start to our hunt. We double-checked to make sure we didn't forget anything important before we left.  We got to our spot in the hunting zone and parked at the side of the road to take our guns out of the case.

My gun is a Winchester Super X4, 20 gauge shotgun, which is a great gun to start with especially for younger hunters because of its lower gauge. With this Winchester Super X4, I have to aim low to hit my target. Still, I have blown off almost all of the grouse's heads that I've shot, so it does work.

Only twenty minutes into the hunt, we had already stopped to talk to some other hunters at the side of the road. They had just shot two grouse. I couldn't help myself thinking that if we had been there five minutes earlier, the grouse would have been ours. Soon, we were back on the road again, listening to country songs on the radio. The rest of the day was like this: stopping at horse turds that looked like grouse, listening to country music, and hours upon hours of nothing. Near the evening, we actually saw a grouse, but it flew off before we could even get out of the truck.   

The next morning was similar except we had a later start to our hunt. We went to a different spot and found two grouse, but they were both so skittish! One must have been fifty metres away, but it flew off the second we hiked down the trail. The other went into the bushes and I chased it for a while. I just never had a clean shot at it. On the drive back we nearly hit a fox on the road. We decided to go home that night, empty-handed. It was fun, but I was disappointed not to shoot anything. We were never expecting what would happen when we got home that night.


Charlie's sister pickung up Mickey Grouse.

When we arrived back home, we unpacked the truck and then walked into the living room where my mom was sitting. She stood up and said, "Hey Charlie, come look in the garage." In the garage she pointed at a white plastic bag. Her face turned green and she walked out. I looked into the plastic bag and, to my surprise, saw a dead grouse. It was actually a really pretty grouse and not your normal gray. It had a red tail just like the one I'd seen in the forest weeks earlier with my friend. I walked back into the living room with the grouse to ask some questions but before I could open my mouth, my mom said, "Just go gut it." So I went to the backyard and gutted it. I also checked its gullet and found that it had been eating its usual berries and clover.

After I was done gutting it, I asked Mom what had happened. While we were having a long day of getting skunked, my mom was at home sitting on the couch with my sister and watched this grouse fly into our big living room window! This was a little surprising because our house is built on a slope, so our living room window is two stories up. After hitting the window, the grouse hobbled around for a bit and then flew into the neighbour's yard. My sister and mom thought it would live so they named it Mickey Grouse. It ended up dying an hour later in the neighbour's yard so my Mom asked the neighbours if she could have the grouse back. My mom was also grossed out so she got my five-year-old sister to retrieve it. After my mom told the story, we all had a good laugh about how a grouse virtually landed on my mom's lap while she was just sitting at home and we were out hunting all weekend and didn't shoot a thing. Life can be funny sometimes.

After I gutted the grouse and removed the feathers, I cooked it up. It was delicious. I like to make Grouse nuggets and here is a recipe that I use:

● grouse
● salt, pepper, paprika, garlic (to taste)
● 1 cup of breadcrumbs (we use Panko)
● 1/4 cup all-purpose flour
● butter or vegetable oil (cover pan in about a 1/2 cm of oil or butter)
● 3 large eggs or Frank's Hot Sauce 

Dice your grouse. Put your eggs or hot sauce and breadcrumbs in separate bowls. Add flour and spices to your breadcrumbs. Take your grouse and put it in the eggs or hot sauce and then put them into the breadcrumbs, spices, and flour. Let sit while you put your vegetable oil or butter onto a pan at medium-low heat. Let that sit until it is at a light simmer. Then put your grouse into the pan. Put heat to medium. Stir every two to three minutes. When it looks cooked, split a good sized nuggie in half to see if it is all the way cooked through. Let cool for a minute and enjoy your grouse nuggies! ■




For previous Reader Stories click here.