Well it had to happen; Alberta has joined much of the hunting world in allowing the use of electronic callers. Commonly called E-Callers, they became legal in Alberta in 2008 for use in calling snow geese. In 2009 the use of electronic calls was expanded to include calling crows, magpie, coyote, red fox and wolf (using sounds that mimic the animals or rodents).

A couple of things to note are that you can only use rodent or pup distress sounds. Other game distress or livestock distress sounds are not legal at this time. I expect that to change in the future, but am not certain. Hopefully their use will be expanded to include cougar and bears as well because both respond well to calling.

With the legalization of E-Callers, there is some concern that the sport has gone out of calling, and that wildlife populations will be adversely affected. I think these concerns are unwarranted. E-Callers are not the "silver bullet" and a great deal of skill is still required to be successful at calling predators. The call sounds or method of delivering them is only one part of being successful. Setup, wind, terrain, animal populations, experience, weather and knowledge of target species all play a part.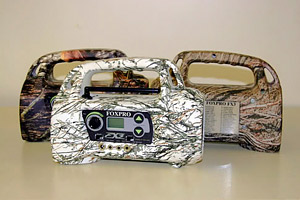 In principle E-Callers are no different than any other tool or technology available to the hunter. Scopes or rangefinders, binoculars or Gore-Tex clothing do not spell doom for wildlife populations and neither will the E-Caller.

Prior to the legalization of E-Callers, predator hunter's used bait or hand calls to attract the predator. Setup for either still requires the same skill set.

Where the E-Caller shines is with the use of a remote control. It allows the hunter to set the E-Caller upwind from his position and he can change the sounds, adjust the volume and turn the unit on and off just like his television at home. When a predator comes to the call, he will usually try to get downwind of the sound. With the use of the remote, this will likely put him in the hunters lap.

As with any other high tech product the technology of the E-Caller changes quickly.
At one time E-Caller actually meant a 12 volt record player and a 45 record of sounds. They went on to cassette players and then sound cards and today some of the E-Callers are very user friendly with everything built into the unit. No need for sound cards or cassettes to change. A USB cord connected to your computer allows sounds to be stored or downloaded from the World Wide Web to be used in the field.

E-Callers are also used by researchers and government environmental departments to study wildlife. Canadian Wildlife Service and provincial fish and game departments also rely on E-callers for some of their studies.

The wide selection of sounds available allows the hunter to present a realistic sound to the predator, however, as easy as it seems it still requires some practice. There's been many coyote come to the call only to run off because the hunter couldn't get his unit shut off or the volume lowered. Or maybe he went to switch from a coyote howl to a rabbit distress and instead hit the "Wolf challenge". That would send a coyote into the next county.

E-Callers require power provided by batteries. In Alberta we have a situation called "winter" that is very hard on batteries. I don't mean city winter with its slushy streets either; I mean bone chilling winter days of -30C. They will sap the life from batteries and when it's taken all your will power to talk yourself into hunting in these conditions, it can be frustrating to turn the caller on and have it die a few minutes into the stand.

I like the rechargeable batteries coupled with a vehicle charger. The caller can be charged through the day while travelling from one setup to the next as needed. If the temperatures are reasonable as they often are until November, the batteries last several outings, but the cold really does shorten that lifespan.
Manufacturers are constantly trying to make these units more user friendly. Smaller speakers, built in speakers, larger keys on the remotes so that they can be operated with gloves on, all add to the versatility of the units. Some of the remotes can also operate a decoy along with the caller. A little fuzzy beast on a wire attached to a caller and wiggling in the air can make a big difference, especially with call shy coyotes in areas of high calling pressure.

Nowadays small speakers do not have to mean small sounds. In Alberta we have many areas where we can watch our dog run away from home for three days. That flat open country holds a lot of coyotes and with the E-Callers and a coyote interrogation sound I have had coyotes come on the run from distances that required me having binoculars to see them.

One of the factors that may help a hunter to decide whether to go high tech is cost. While there are E-Callers on the market for $30.00 there are also some for over $1000.00 and everywhere in between. As is often the case, "The bitter taste of poor quality remains much longer than the sweet taste of a low price".

Predator calling is the fastest growing segment in the sport of hunting and that is because a caller does not have to be young and fit to tackle this endeavour. Short walks over easy terrain will get most of us in decent calling areas. An abundance of coyotes and wolves also makes success reasonably possible. The E-Caller helps those who, for whatever reason, don't have the wind power to call on a handcall for a day.

Hmmm, I guess we'll never see a politician use an E-Caller. ■